Friday News 11/3/23
Posted November 6, 2023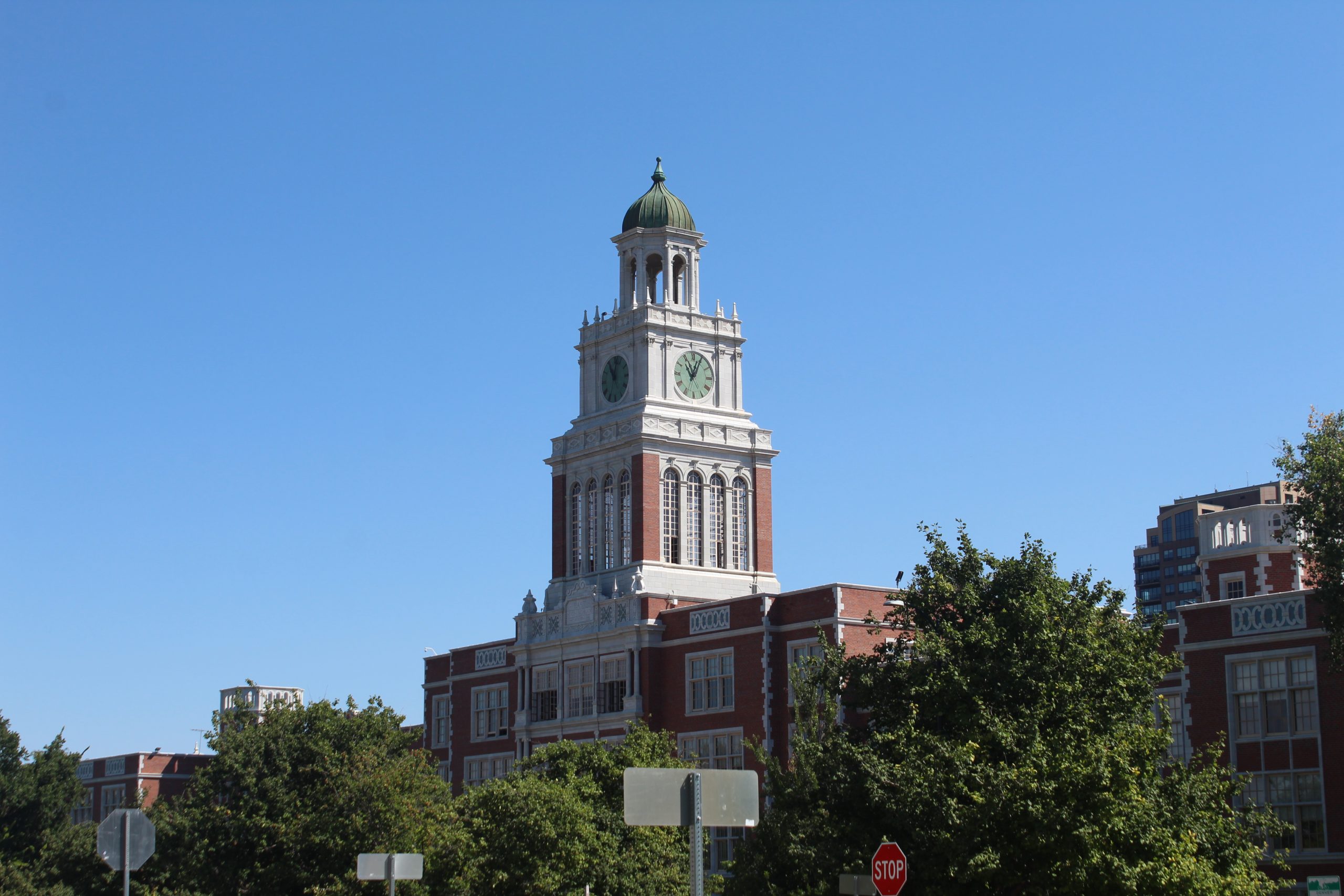 Dear Angels Community,

As we gear up for the next two weeks before Thanksgiving break, let's keep the momentum going strong. Embrace the changing weather by staying warm, both in spirit and with cozy layers. Don't forget to take breaks, sip on some hot cocoa, and find joy in the little moments.For our seniors, as we wrap up college applications, remember that you've got a community here cheering you on. Keep pushing, stay focused, and celebrate the progress you've made. We're in this together, and the finish line is in sight. Let's make these next two weeks count!As always, thank you for your support of our East Community and follow our active student body on Instagram @eastangels_madamprincipal and @denvereasths or visit our website for additional information https://east.dpsk12.org/
Important Upcoming Dates
Nov 03 Fall Play @ 7:00 pm
Nov 03 Football Playoffs @ 6:00 pm (All City Stadium)
Nov 04 Fall Play @ 2:00 & 7:00 pm
Nov 05 Denver NACAC College Fair (Colorado Convention Center)
Nov 06 Women of East Period Product Drive (6-18 drop off in room 100)
Nov 08 Instrumental Music Pizza (5:30-9:30)
Nov 08 DPS League Spirit Competition (6:00pm)
Nov 09 9th Grade Council Election Informational Meeting
Nov 11 East NHS Make A Difference Day
Nov 13 First Day of Winter Sports
Nov 13 Spring Musical Auditions (4:00-7:00pm)
Nov 13 Jazz Solo Night (Postponed to Jan. 17)
Nov 14 Early Release Day
Nov 14 10th and 11th College Night
Nov 15 Spring Musical Auditions (4:00-7:00pm)
Nov 16 Rock & Jock (tutorial)
Nov 16 Level 1 Performance @ 6:00 pm
Nov 16 Empty Bowls (5:00-7:00)
Nov 17 Thriftcon Clothing Exchange (after school 4-5:30)
Nov 28 Movie night (6:30-8:30)
Nov 29 Performing Arts Assembly
Nov 29 Coffee House Rehearsal (4:00-8:00 pm)
Nov 30 9th grade elections
Nov 30 Coffee House Performance @ 4:00 & 7:00 pm
Nov 30 Colorado Gives Day Fundraising Kickoff Event (6:00-8:00pm)
Student Spotlight
Rosie Mucharsky is our 5A GIRLS CROSS COUNTRY STATE CHAMPION. Congratulations, Rosie. We are so proud of you. Your dedication to the sport, your community and your academic excellence do not go unnoticed!
Way to go, Angel!
Check out her interview @denvereasths on Instagram!
❄️ Weather Update ❄️
With the shift in weather, temperatures are dropping, and we want to ensure the comfort and well-being of our students. For those seeking refuge from the chill, you now have the option to enter the building through the Detroit Street entrance; however, please be advised that students are required to stay in the Commons until the building officially opens.
Lunch Update
Lunch is FREE for ALL students regardless of students free or reduced price meal benefit status; however, it is still very important that families continue to complete the Household Application for Student Meal Benefits to determine lunch eligibility status.
Native American Heritage Month
| | |
| --- | --- |
| | November is Native American Heritage Month. Honor their legacies by being informed of the contributions of First Nation tribes. Here is one of countless resources on Native heritage. |
Future Center News
SENIOR PARENTS
Financial aid season is right around the corner. For students who are U.S. citizens or permanent residents, the FAFSA is the application you and your student will complete to apply for financial aid. For students who are undocumented, you will complete the CASFA application. The applications will open in December (the exact date has not yet been released). It is important that your family completes the application, so we hope to help you get prepared ahead of time.
If your student will be completing the FAFSA this year, you will need to create your own FSA ID, which is the electronic signature you'll use to complete your part of the form. It consists of a username and password. You can get started on this task now if you have a social security number. If you don't have a social security number, there will be a process for you to create an FSA ID soon – look for more information from the Future Center coming around December!
For those filling out the CASFA, you can create your login here.
Padres de estudiantes del 12º grado 
La temporada de ayuda financiera está a la vuelta de la esquina. Para los estudiantes que son ciudadanos de los Estados Unidos o residentes permanentes, la FAFSA es la aplicación que usted y su estudiante completarán para solicitar ayuda financiera. Para los estudiantes indocumentados, completarán la aplicación de CASFA.Las aplicaciones se abren en diciembre (aunque aún no sabemos la fecha exacta). Es importante que su familia complete la solicitud de ayuda financiera (FAFSA o CASFA), y estamos aquí para ayudarles a prepararse con tiempo.
Si su estudiante va a llenar la FAFSA este año, necesitará crear su propia identificación de la FSA, que es la firma electrónica que utilizará para completar su parte del formulario. Si usted tiene un número de Seguro Social, puede comenzar ahora. Si no lo tiene, no se preocupen, habrá un proceso para que puedan crear su FSA ID pronto. Cuando estemos mas cerca de diciembre, tendremos más información en el DSF Future Center para usted y su estudiante.
Para aquellos que están completando la CASFA, pueden crear su inicio de sesión aquí.
DENVER SCHOLARSHIP FOUNDATION JOB OPPORTUNITY
The Denver Scholarship Foundation (DSF) is in the process of hiring a College Advisor at East. Click here to see the job description.
Career Center
Student Career Guide
The English and Spanish versions of the '23-'24 DPS Career Guide are here! Please use them to give yourself a comprehensive overview of the career readiness services your student has access to at East. Remember, your student can connect with Ellie Jacques, eleanor_jacques@dpsk12.net, and other career services by joining the East High School Career Center on Schoology, using the code: XXKF-RG67-QNFH3. You and your student can also review a complete list of Career Ready Action Items. You might consider focusing on one career action per month or one per "season" with your student to help them start to plan their future.
The Resume How-To Guide is a resource for resume and cover letters. Use it in preparation for career searches, interviews and on-the-spot networking opportunities.

Counseling Update
Denver NACAC Fair – Sunday, Nov. 5th from 1 p.m. to 4 p.m. at the Colorado Convention Center. Students and families can find a full list of colleges attending here.
10th and 11th College Night
East Counseling Staff will be presenting College Night for 10th and 11th graders and their guardians on November 14 at 6pm in the auditorium. Come to hear recommendations on what your student should be doing to prepare for their plans for after East!
ASCENT Student Information Meeting-period 6, counseling center
ASCENT is a 5th year high school program allowing students to attend college full-time for free for one year after high school. Students in the ASCENT program can attend a participating technical, community, or 4 year college following graduation from high school. For more information please visit the ASCENT web page.
Family & Community Engagement Update
East Angels Family & Friends (EAFAF)
Support East's Amazon Wishlist:
Can't participate in the PTSA? No problem, you can grant our wishes anyway! Click HERE to send materials to benefit our student body and staff.
Volunteers
Please remember, all volunteers need to complete a background check prior to volunteering within the school and classroom. The purple Volunteer Background Check Portal tab is hyperlinked to the Sterling Volunteers DPS prepaid account landing page. When using this link, payment is not required. The DPS Online Volunteer Background Check is located at the following link – https://equity.dpsk12.org/get-involved/volunteer-services/

The boys2MEN Fall Workshop
The boys2MEN Fall Workshop; College & Life Readiness, is designed for Young Kings to architect a clear vision from High School to College. Young Kings will engage in Life Readiness courses during the first part of the day, then directly with college recruiters to learn about admission requirements and campus life.
The workshop is Saturday, November 11, 2023 from 8:30 AM to 2:00 PM. The link to apply to be a Young King is HERE
Athletics Update:
Athlete of the Week:
Congratulations Landen Holloway as being selected as the Athlete of the Week! Landen, a member of the class of 2024, has been making waves in the East Angels Football program, earning the prestigious title of captain and back-to-back Defensive Player of the Year in the 5A Metro North division. Landen's exceptional skills and dedication helped lead the Angels to an impressive record of 8-2 this season. Not only is Landen a force to be reckoned with in football, but he also excels academically. Boasting an impressive 3.5 unweighted GPA, Landen sets an excellent example for his teammates both on and off the field. As Landen looks towards the future, he has multiple scholarship opportunities. Congratulations Landen, we eagerly await your future success both in college football and beyond as you continue to leave a lasting impact on the field and in the classroom. East High School is proud to have you as a representative of the Angels Football program.
Other BIG Highlights:
ROSIE MUCHARSKY IS YOUR 5A GIRLS CROSS COUNTRY STATE CHAMPION. HUGE CONGRATS ROSIE!!!
Jonas Scudamore also had strong performance at State, taking 6th overall.
Boys Soccer beat Aurora Central 2-0 to advance to the State Quarterfinals. They will face Arapahoe at 3:30pm on Saturday, 11/4 at Englewood HS.
4 Gymnasts qualified and competed in state on Thursday: Arely, Marquez, Delaney Donahue, Pippa Nelson-Bouck, & Evie Moon.
Girls Volleyball will begin their regional matches Friday, 11/3 at 3:30 & 5:30pm at Erie High School.
Football will start their playoff run Friday, 11/3 vs Mullen HS at 6:00pm at All-City Stadium
Winter Sports Registration is now open! Use this LINK for more information on how to get registered.
Links:
Activities Update
Senior Hub: The senior hub is now up on the website. The senior fee ($25) can now be paid through the hub.
Ninth grade Student Council Elections: An informational meeting for 9th grade students is November 9th at lunch in the auditorium.
Women of East Period Product Drive: This will take place November 6-18. Drop off in room 100.
Class T-shirts: 10th & 11th grade class t-shirts are available in room 100 only $10
Make a Difference Day: On Saturday, Nov 11th our National Honor Society is hosting an East Cleanup Project from 8:00-1:00pm. Come out and help keep our campus beautiful!
Thriftcon Clothing Exchange: This event will take place on Nov. 17th after school. Students can bring gently used clothes to swap or donate to Urban Peak.
East High Nike Hats: There are two versions of these hats; the senior hat which is white with the original East logo & a red version of the hat with out the senior part under the logo. These are also available in room 100.
Club List 23-24: Here you can access all of the amazing club opportunities we have this school year. Feel free to reach out to club sponsors or Tee MacDonald theresa_macdonald@dpsk12.net for more information.
Yearbook Information
Yearbook sales purchase link: https://www.jostens.com/apps/store/productBrowse/1008646/East-High-School/2024-Yearbook/20230711041857043152/CATALOG_SHOP/
East Theater Company's Fall Play: Antigone
Performance Dates:
11/3 @ 7pm
11/4 @ 2pm & 7pm
Tickets are available at ETC Website or www.easttheatreco.org
Tickets are $10 for students on line $12 at the door $15 for adults on line $18 at door.
HOW SICK IS TOO SICK?
There are three main reasons for children to stay/go home:
1. The child could infect others with a contagious illness, either because of symptoms, a diagnosis, or recent exposure to a contagious illness (COVID, Cold, Flu, RSV, Strep, chickenpox, GI issues, measles, etc)
2. The child member does not feel well enough to take part in usual activities. For example, a child is overly tired, intense head/stomach ache, fever, chills, or vomiting.
3. A child needs more care than teachers and staff can give while still caring for the other children.
When to seek emergency medical attention
● Trouble breathing
● Persistent pain or pressure in the chest
● Confusion
● Inability to wake or stay awake
● Pale, gray, or blue-colored skin, lips, or nail beds, depending on skin tone
These are not all possible indications of a medical emergency. Call 9-1-1 or your healthcare provider for any other symptoms that are severe or concerning to you.
Flu vaccines are available for DPS students only.
Each student will need an appointment and a current consent for the Denver Health School Based Clinic. DenverHealth.org/services/school-based-health-centers/e-consent
School-Based will not be offering the COVID vaccine to DH employees, DPS staff, parents or community. Feel free to visit your PCP, Public Health, Walgreens, etc., for your COVID vaccine.
Schedule Today! https://mychart.denverhealth.org/mychart/openscheduling
Spirit Store
East High School's Spirit Store is located on the second floor just south of the Main Office.
Operating hours are:
Monday, Tuesday, Wednesday and Thursday – during lunch
Friday – during seventh period
The Spirit Store is run by volunteers and will be closed if a volunteer is not available. If you would like to confirm store hours, volunteer, or ask questions, please contact spiritstore@eastangelfriends.org.
All Spirit Store proceeds support the East Angel Friends & Alumni Foundation. For more on EAFAF, visit eastangelfriends.org. Go Angels!